All patients should want to get the best total knee replacement results that they can get.  We all know that there is no guarantee of success with any surgery, so patients should  do their online research to maximize their knowledge and choices.   Dr. Stuart Kozinn is the Chief of Surgery and Medical Director at The Scottsdale HonorHealth Osborn Total Joint Center, and he has completed thousands of  knee replacements over 28 years in practice in Scottsdale, Arizona.  As in most technical endeavors, experience and training is also important in total joint surgery.
It is natural to want to find a qualified surgeon when considering a total knee replacement for yourself or a loved one.   Dr. Kozinn does his total knees at at Scottsdale HonorHealth  Osborn Medical Center.  To do this operation consistently well,  years of training and experience, and a total joint fellowship are important additional credentials.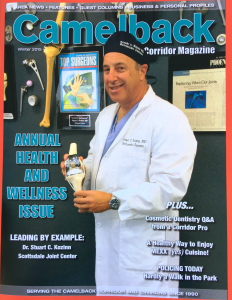 In a typical total knee replacement, the implants that replace the diseased portion of your knee are made from metal and plastic. The tibial component,  (bottom implant) replaces the top surface of the tibia with a metal base and a modular plastic insert. The metal tray  is attached directly to the bone with cement, and a polyethylene (medical-grade plastic) spacer that provides the bearing surface between the tibial and femoral components, is snapped into position into the tray. The plastic used is very tough and durable and has recently been improved by a cross-linking process which can make the knee last much longer. Many plastic trays can now last 30 years before wearing out. The femoral component (top portion) replaces the two femoral condyles and the groove where the patella runs. The femoral component is made of cobalt-chrome, a biocompatible metal. The patellar component is made of plastic (knee-cap portion) and replaces the joint surface on the backside of the patella that rubs against the femur in the femoral grove. Modern knee replacements are Quite successful in most cases. Success and satisfaction rates  average over 90 percent in short term, and we expect 80 to 85 percent  of our knees to still be functioning 20 years out.  Dr. Kozinn utilizes state of the art muscle sparing techniques that minimize damage to the muscles under the skin. This coupled with pain management techniques such as regional anesthesia and femoral nerve blocks leads to a more rapid recovery. We now use a long acting local anesthetic medication as well. Experience counts in knee replacement surgeon, and Dr. Kozinn has been doing total knees and more complicated revision knees at Scottsdale Osborn for many years.
Do your research online to learn about knee surgery, and consider a total knee replacement if you are a good candidate… We are happy to see you here in Scottsdale, Arizona.
Dr. Kozinn is considered among the best knee replacement specialists in Arizona.  His knee replacement surgeries are performed by using the latest technologies combined with 28 years of experience. If you are a candidate for a total knee replacement it is important to see a knee surgeon that specializes in joint replacement; and does many hip and knee surgeries. A frequently asked question is about the role of computers in Knee Replacement.  Dr. Kozinn was one of the first surgeons in Arizona to use the "computer" to do total knees. It soon became clear to him and most other surgeons, that the present technology not only did not improve the results of knee replacement, but it sometimes made it worse. Unfortunately, it has been used as a "marketing tool" by some surgeons to gain patients, but with no proof of effectiveness. The best technology now available includes longer lasting implants, and techniques which limit pain.  This improves recovery, and combined with with "tissue sparing" approaches, patients will get back to work and activities much faster than ever before. The results of total knee replacement are not measured by the length of the skin incision, but are affected by how gently the muscle tissue is handled underneath. Dr. Kozinn uses a variety of "quadriceps-sparing" techniques to maximize recovery and minimize pain.
How Total Knee Replacement Works
The prostheses Dr. Kozinn uses  are generally attached with cement. This is the best choice in knee replacement technology right now, and has the "gold-standard" track record.  Knee joint design and biomechanics is different than that of the hip joint (where cementless implants are better!). A cemented prosthesis is held in place by a type of epoxy cement that attaches the metal to the bone. The choice of implant is usually made by the surgeon and is based on your health, age and lifestyle.  Dr. Kozinn typically uses implants with a long record of success. We use both a rotating platform total knee ( made by Johnson & Johnson ) and a traditional fixed bearing total knee.  The RP knee is available for some very young, active, or heavy patients and may provide increased rotational motion, with the hope of decreased long term wear. Other total knees may be used in special situations, and the truth is, all modern total knee systems are more similar than different. Each surgeon will master the knee system that he feels is best for his patients. How the knee is "balanced" is probably more important than which implant is used. There is some unpredictable scar tissue and soft tissue healing that occurs after total knee surgery.  That is why it is good advice for you to  choose a total knee surgeon that has been doing them over a long period of time. Dr. Kozinn has completed a fellowship in knee replacement at Harvard Medical School and typically does many total knees each year. He is Medical Director of the Total Joint Center at Scottsdale HonorHealth and has been doing Total Knee and Partial Knee surgery for 28 years in Scottsdale with excellent overall results.
We specialize in joint replacement surgery of the KNEE, HIP, and SHOULDER.  If you are in the Phoenix, Arizona area and need a specialist that focuses on these types of surgeries, the Scottsdale Joint Center and Dr. Stuart Kozinn MD is seeing limited new patient.   If you have any questions, please feel free to contact us, ask for our office manager Gerry at 480-994-1149 if you special questions or needs. Please visit our websites atscottsdalejointcenter.com, and www.TotalKnee.org,  or check out our Knee Replacement Frequently Asked Questions for more information.
Uni-Compartmental Knee Replacement
Osteoarthritis is one of the leading causes of progressive deterioration of the knee joint. Depending on the stage of the disease, different treatment options exist to help ease your pain and restore your knee to more normal function. A uni-compartmental knee replacement is just one of several treatment options. Dr. Kozinn is an expert in partial knee replacement, and has authored the classic scientific paper published in the Journal of Bone and Joint Surgery on the indications for its use. He has been doing partial knees in appropriate patients for 24 years in Scottsdale.
The uni-compartmental knee is designed to resurface one-third, or one compartment, of the knee when only one compartment is diseased. Because only one side of the knee is replaced, less of your bone is removed and recovery time is usually quicker than it is for someone who has a total knee replacement. The implant used consists of a metal femoral and a plastic tibial component (also known as prostheses) that are used to resurface the diseased portion of the knee. A minimally invasive approach is routinely used, and some motivated patients can go home the same day as surgery.
Dr. Kozinn has lectured nationally and has done clinical research on uni-compartmental knee replacements. He presently prefers to use the Oxford Uni-Knee system made by Biomet. It is a mobile bearing system, and has results similar over the long term to traditional full knee replacement in selected patients. Patients sometimes ask about using a "robot" to help with partial knee replacement. The technology si not good enough yet, and I would encourage patients to stick with the "human" computer (brain), of a fellowship trained total joint surgeon.
Total Knee replacement is a very successful treatment to eliminate the disability from severe knee arthritis. Please come in for a consultation and speak with Dr. Kozinn.  We are honored to serve you!