The Anterior Total Hip Replacement procedure.
The hip joint is a "ball and socket" type joint.. When the smooth cartilage suface wears out, painful osteoarthritis develops. The bone on bone grinding is painful because there are exposed nerve endings in the subchondral bone.  Synovitis is inflammation of the joint lining, which also causes pain. An anterior  total hip replacement procedure replaces your diseased hip with an implant made out of metal and plastic (also called a hip prosthesis).  Dr. Kozinn has been doing total hip replacements for over twenty-seven years in private practice in Scottsdale, Arizona.  –  He trained at the Hospital for Special Surgery (HSS) in New York City, where he completed his orthopedic residency. He then did an additional year of training in a Total Joint Fellowship in Boston at Harvard University Medical School.  These are two of the most prestigious medical centers (see US NEWS and WORLD REPORT magazine's best hospitals) in the world for ORTHOPEDICS & Joint Replacement surgery.  ( The Hospital for Special Surgery is rated#1, and Harvard Medical School is rated #2).  Dr. Kozinn is no longer performing surgery, but if you wish to see him in consultation to assess your suitability ofr the proedure, please email him at SKozinnmd@gmail.com.   If you have questions or problems related to your present hip replacement, and you wish an unbiased opinion from a recognized expert, please email Dr. Kozinn to set up an appointment. (Please remember that Dr. Kozinn no longer participates with Medicare or any of the health plans- he will explain payment for services policies via email contact.)  The Anterior Total Hip Replacement procedure is withstanding the "test of time" and it can take time off of your recovery from traditional posterior hip surgery.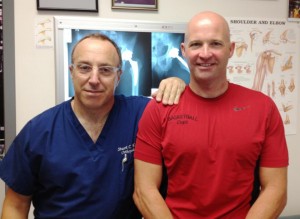 Training and experience are very important in Joint Replacement Surgery.  Dr. Kozinn has performed over 1500 Anterior Total hip Replacements at The Scottsdale Joint Center. Complications can occur with any surgical procedure, but our complication rate was extremely low, and most patients have been satisfied with their results. ( Remember that no guaranty of successful results can be made with any specific surgery, no matter who is performing your surgery, and complications can occur.   If you wish to have a second opinion consultation with Dr. Kozinn, he will explain the general risks and possible complications that could occur.  Email Dr. Kozinn at SKozinnmd@gmail.com to discuss further.
Most surgeons use a cobalt chrome head, articulating with an E poly ( highly cross-linked polyethylene) cup liner for longer lasting results. Ceramic heads are avaialable, but they have equal advantages and disadvantages. Many Vitamin E treated poly liners have been shown to last more than 30 years in lab simulations of activity. Metal on metal hips are no longer considered a good option for most patients, as a select few may have a biological inflammatory reaction or allergic response to small metal wear particles that develop over time.  With the advent of Vitamin E treated poly and other new and stronger polyethylenes, most surgeons are switching back to the long lasting plastic liners.
The femoral stem implant, which is manufactured from Titanium replaces the old femoral head.   The femoral head which attaches to the stem is made either of metal or ceramic, but we are using the metal more commonly now that we have better plastics. The acetabular cup implant replaces the diseased socket. The acetabular component is made up of a metal shell with a special cross linked polyethylene (medical-grade plastic) socket liner that acts as a bearing surface. The plastic used is very tough and durable and is now treated with anti-oxidants like vitamin E to last many additional years.   Dr. Kozinn performed his total hip surgery at Scottsdale Healthcare – HonorHealth Osborn Medical Center.  He is no longer operating, but he continues to be The Medical Director of the Joint Replacement Center at HonorHealth Osborn medical Center, and is the current Chief of Surgery there, as well as a past Chief of Orthopedics.  Dr. Kozinn teaches medical students from the University of Arizona College of Medicine in Phoenix. He has a faculty appointment there as a Clinical assistant Professor of Orthopedic Surgery.   Extensive experience and a dedicated Total Joint Center is very important in Joint Replacement Surgery. It has been shown that complications decrease over time with increased surgeon volume.
Modern prostheses are attached to the bone without cement.   The prosthesis typically has a porous coating or textured surface that allows tissue to grow into the implant and attach the bone, often permanently. Dr. Kozinn did ground breaking research on the bone ingrowth process while still a medical student at UCLA.  Because of this advance in biomaterials and technology, patients previously considered "too young" for hip replacement, are now able to have successful surgeries, even at younger ages.  Patients presenting with hip arthritis in their 40's and 50's are now very common.
Do your research online in your own community, …look for a Total Joint Fellowship trained orthopedic surgeon with a specialty practice in hip or knee replacement.
Total hip replacement surgery is one of the most "successful" reconstructive surgeries of our times, and patient's should not have to suffer with a hip disability that takes away activities of daily living that ordinarily are taken for granted.  You usually can play golf and tennis again without pain, you can swim and bike, you can ski and hike…if it needs it, you should find the best surgeon you can, and you should have your hip replaced. Patients who delay treatment, often suffer additional degeneration of their spine, the other hip, and their knee joints.  Modern techniques emphasize rapid recovery, immediate mobility, full weight bearing, and multi-modal pain management, which has helped to minimize complications and pain. The anterior hip procedure cuts a minimum of any muscle tissue, leading in general to a more rapid recovery for most patients, compared to other approaches.
Dr. Kozinn will advise you of the different surgical "approaches" to total hip replacement.  Each patient is unique, and one approach may be better suited to any specific person because of "body type" or pathology.  A newer approach – "The DIRECT ANTERIOR" approach is generating a lot of excitement.  This is because it can be accomplished without cutting  muscle tissue by using a special traction table.  Dr. Kozinn has done Approximately 15 hundred total hips using this new procedure, and will advise you if you are a good candidate for it. After watching patients recover from hip surgery for almost 30 years, the results of the Anterior Total Hips has been more satisfactory for most patients.  Motivated patients can go home the same day of the surgery if they desire.  Dr. Kozinn has authored many scholarly articles and publications on Joint Replacement, and has taught other orthopedic surgeons his techniques. Dr. Kozinn has also spent time in the OR with the inventor of the Anterior Total Hip approach, Dr. Joel Matta in Los Angeles. He has greatly benefited from his additional experience and teaching in this exciting new approach.  Please watch the video below which gives you a good idea of how the implants can be placed without cuting any muscle.
Video: How an Anterior Total Hip Replacement is Done; This technique may provide a Faster Functional Recovery after hip replament.
Anterior Hip replacement surgery allows the surgeon to reach the hip joint from the front of the hip.  The hip can be replaced in this manner without detachment of muscle from the femur or pelvis by working through the natural interval between muscles.  The gluteal muscles which are most important for hip function are left undisturbed from this procedure and do not require a lengthy recovery process. Immediately following surgery, patients are able to bend their hip freely and bear full weight, resulting in a rapid return to pre-operation function.  There are essentially NO RESTRICTION on recovery, although common sense is required.
Not every patient is an ideal candidate, but most are. Large muscular males are doable, but they are more difficult to do this way, and Dr. Kozinn will explain these issues to you if you wish to  come in for a second opinion consultation. The most exciting part of the procedure is how "fast" patients are up walking, and how little pain most appear to have afterwards.  It is possible for a highly motivated individual to "go home" the same day as surgery, however most stay in the hospital overnight to take advantage of  "nursing help" and  physical therapy.
The surgery is done under spinal anesthesia if possible, because it is safer. General anesthesia can be used if needed.  The procedure is facilitated by using a special "traction table" that positions the hip joint in the exact position necessary to create the spaces in the bones.  An X-ray machine (flouroscope) is used to help position the implants.  (This also helps regulate the final leg length of the limb, as both hips are seen on the X-ray for comparison at the same time) . Another unique advantage of the anterior approach, is the increased "stability" of the hip.  It is possible, but MUCH more difficult to dislocate the anterior total hip because it is inserted under traction and the posterior hip ligaments remain intact. When normal muscle tension is restored, the muscles "pull" the hip together.  Therefore, there is no need for special pillows between the legs, or limitations on activities early on, like there is with other approaches. With instructions from your therapist, Many patients can bend down and tie their our own shoes after a few days.  Patients particularly like that they can get back to work and travel  faster after surgery.
Our experience with this "new" procedure has been very positive, and Dr. Kozinn is happy to discuss it with you in person.  All surgical procedures can have complications, sometimes involving medical issues.  A full discussion of the "risks, benefits, and alternatives" is always discussed with each patient.  This process is called informed consent.  We will ask you to see your medical doctors before any surgery is done to maximize your fitness for anesthesia!
If you are a patient that is considering hip replacement surgery, please read our hip replacement frequently asked questions to learn more!  Better yet, please make an appointment for a second opinion and advice, and "get moving again"!
Email Dr. Kozinn at SKozinnmd@gmail.com if you have questions you would like to discuss.